DIM-300S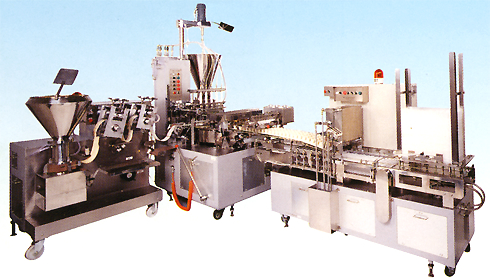 The shaomai machine (Model : DIM-300) consists of the dough pastry machine, the forming machine, and the tray-packing machine, and automates a series of processes such as pastry wrapper making, filling, forming into shape, packing into tray, and delivery on conveyer. Firstly, put the kneaded-dough and the stuffing into the dough hopper and stuffing hopper, respectively. After that, the shaomai (shu-mai) achine makes square dough wrapper, fills the stuffing on the turntable, forms the beautiful and high-quality Shaomai, then puts shaomai into tray, and finally delivers packed shaomai on the conveyer.
Feature:

1) Shaomai weight is consistent.
2) Shape is beautiful.
3) Stuffing is little kneaded.
4) Operation is quiet.
5) Washable with water.
Specifications

Production capacity: 18,000 Pieces / Hour
Product weight: 15-40 g (One weigh must be selected.)
Machine dimension(W x L x H): 2,200 x 3,000 x 2,500mm
Power requirement: 6.2 Kw