V4-Loaf Bread Line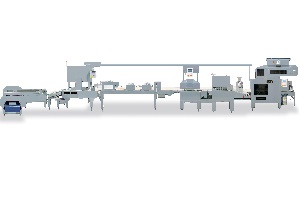 A wide variety of high quality loaf breads can be automatically produced.
The V4-Stress Free® Loaf Bread Line is uniquely designed for high quality loaf and tin breads with efficient production using compact space and highly hygienic sanitation.
Features

Rheon's innovative bread production process.

Create your own variety of loaf breads using Rheon's latest technology. The V4 Loaf Bread Line produces bread from the dough sheet and is rolled up with whatever ingredient you wish to add.
Rheon's Stress Free® System never damages the dough so no overhead proofer nor additives are required.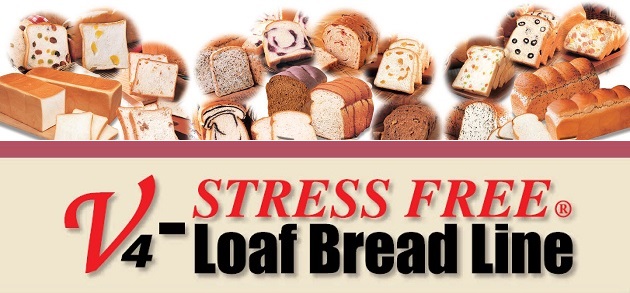 High quality products are produced

The "Multi-Stretcher" degasses the dough consistently during the sheeting process without causing any damage to the dough, resulting in high quality bread. Large chunks of solid materials, such as nuts or cherries remain undamaged during the process since they are gently rolled up in the dough sheet. (This feature broadens the flexibility of creating new and a wider variety of products.) By combining a variety of ingredients, you can create an endless range of loaf breads. (This system can process long-fermented and high water absorption dough.)
The Ideal Production System!

No overhead proofer required.
1) Prevents food contamination.
2) Saves production space.
High accurate dough portioning system is obtained using the Gravimetric Method and the dough fermentation level is not affected.
Stable panning feature.
Very quiet operation.
Hygienic and easy to clean.
Visible and easily accessible dough sheeting and shaping process enables control of the quality.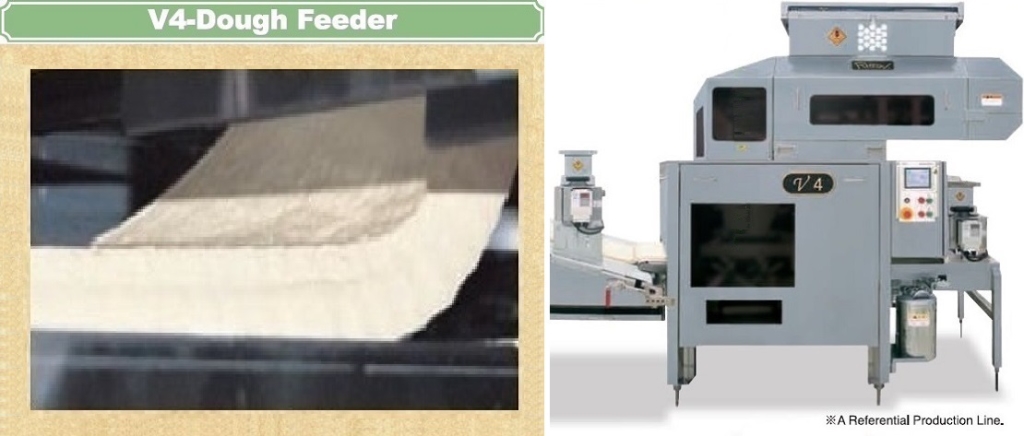 Processes continuous and consistent damage-free dough sheet.


The Stress Free System streams continuous dough sheets at the controlled width and thickness according to the characteristic of the dough. (fluidity and elasticity) Since the dough is damage-free, the V4 Dough Feeder produces high quality bread without any additives.
Sheeting the dough with no damage.

The Multi Stretcher is an all purpose dough stretcher.
The stretching roller speed and direction are freely adjustable to stretch and degas the dough. The final product will have a soft and consistent crumb texture creating a rich-flavored product. The sheeting mechanism requires very little flour, keeping the working environment sanitary.
Portions the dough without damage.

The Gravimetric Method is Rheon's original dough weighing and portioning system. Dough conditions change regularly, but this system controls the portions accurately, resulting in consistent shape and size.

Stable Panning Feature.

Automatically places the dough into various types of pan cases to create all types of bread.
No intermediate proofing necessary. Simple production for a variety of products.

We offer different models depending on your production requirement.


The V4 Stress Free Loaf Bread Line is a fully automated bread production line featuring the functions of Stress Free dough streaming, sheeting and degassing, Gavimetric portioning and automated panning into baking pans.
Options that can be attached to the machine to produce your unique creation.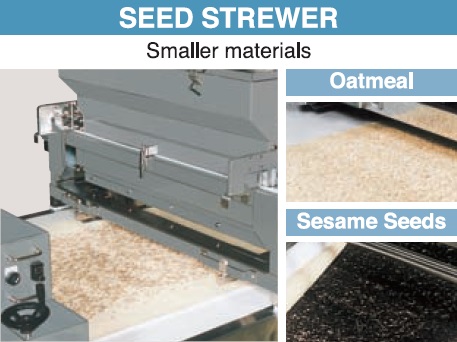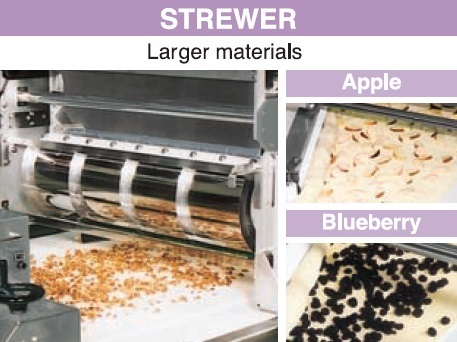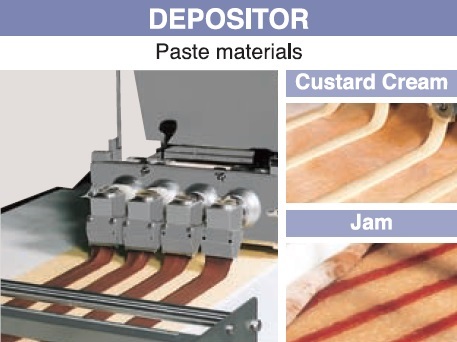 Specifications

| Machine Code | V4-VM1500 | V4-VM3000 |
| --- | --- | --- |
| Maximum Output | 1500kg/h | 3000kg/h |
| Length | 14581mm | 15226mm |
| Width | 6078mm | 5990mm |
| Height | 3074mm | 3660mm |
*** Contact the nearest Rheon office for specifications and capacities of the V4-STRESS FREE(R) Loaf Bread Line.