Barrel Shaping Device – Sphere to barrel-shape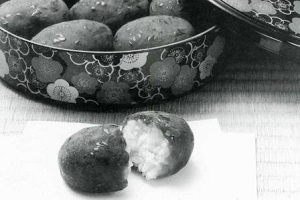 Products encrusted into spheres are shaped into barrel-shaped products.
The Barrel Shaping Device takes the sphere-shaped Ohagi, Sakura-mochi, and other products of the Rheon Encrusting machines and automatically shapes them into beautiful barrel-shaped products.
Features

The variable speed motor within the body of the Barrel Shaping Device allows the operator to adjust the conveyor belt speed to meet the various needs of different encrusting machine production speeds. The shaping is done entirely by machine, and is very hygienic.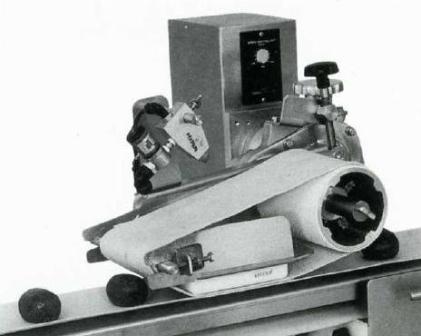 The Barrel Shaping Device can be operated connected to option bases on the CORNUCOPIA(R) KN-series and FN-208, Make-up Unit Conveyor.
The size range capacity of the Barrel Shaping Device is 40 – 120g.
The production speed can be adjusted to up to 40 pcs./min.
The Barrel Shaping Device can share its electric power with the Encrusting Machine.
Both belt and roller can be taken off for cleaning. For strongly adhesive dough, use the separately sold Alcohol Spray Unit in conjunction with this device.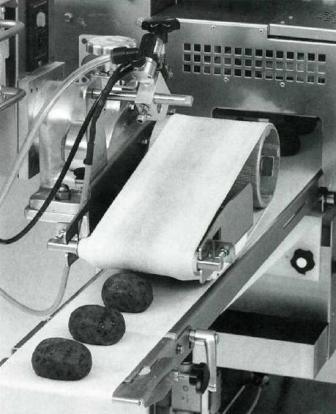 ▲The photo shows a Barrel Shaping Device with an Alcohol Spray Unit.

Alcohol Spray Unit (sold separately)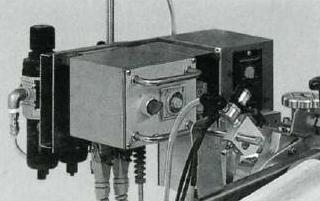 The Alcohol Spray Unit has a mechanism that sprays alcohol on the Barrel Shaping Device belt. It prevents the product from sticking and also serves to sterilize, further promoting sanitation. Use with the Barrel Shaping Device.
Specifications

| | |
| --- | --- |
| Product Weight Range | 40-120gram |
| Production Speed | 40pcs./min. |
| Belt Speed Range | 0-22.9m/min. at 50Hz, and 0-27.5m/min.(at 60Hz) |