Compact Panner with Tray Feeder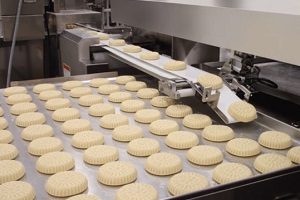 Easy operation and maintenance.

Reduce labor costs and increase productivity!
The new affordable Compact Panner has a built-in Underneath Conveyor which indexes trays and receives products from Rheon encrusting machines(single head) and lines them up evenly.
Features

All pick up has been automated, so product shape remains intact and production is very sanitary.
The Compact Panner can memorize up to five panning patterns and operation is very simple with a single switch production changeover.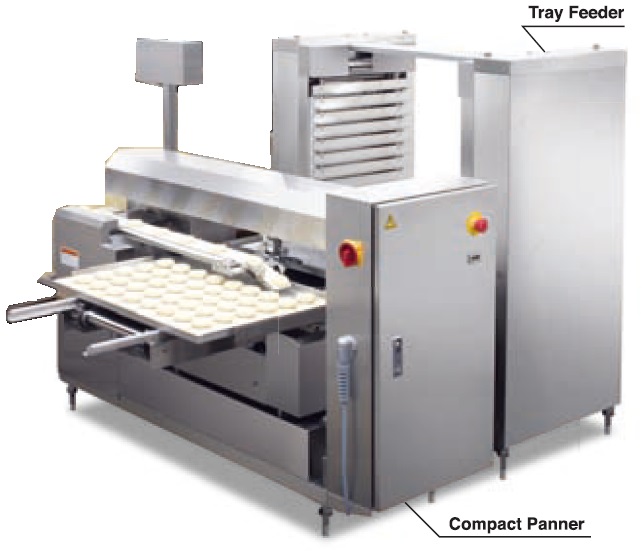 Tray Feeder

Tray feeding can also be automated by connecting the Tray Feeder.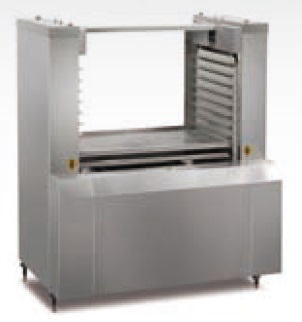 Specifications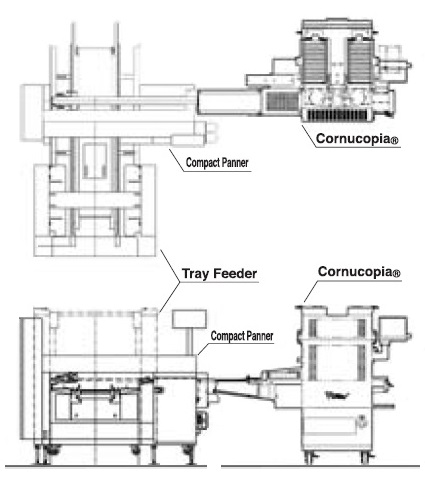 | | |
| --- | --- |
| Machine Code | KP202 / KP242 |
| Total Length | 1796mm |
| Total Width | 2050mm ( 2146mm includes Tray Feeder ) |
| Total Height | 1425mm ( 1441mm includes Tray Feeder ) |
| Belt Width | 75mm or 145mm |
Panning pattern example

Trays move 90 degrees to the right to product flow direction on the standard model. Please contact Rheon for the opposite direction model.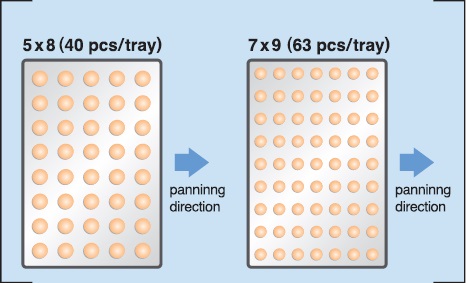 | | |
| --- | --- |
| Tray Size (Range) | 580 – 800mm x 400 – 600mm |
| Tray Size Height (Max.) | 35mm |
| Panner Work (Max.) | 8times/min. |