CORNUCOPIA® KN135 – Prepared Foods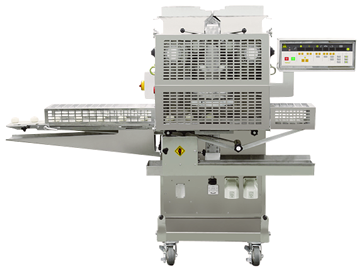 ​
Compact Encrusting Machine for Savory Foods and Confectionary

From savory and prepared foods to confectioneries, the new Cornucopia® KN-135 encrusting robot is applicable to wide varieties of food materials. Equipped with a patented new type of encruster, high-quality products can be uniformly created.
Product example to be produced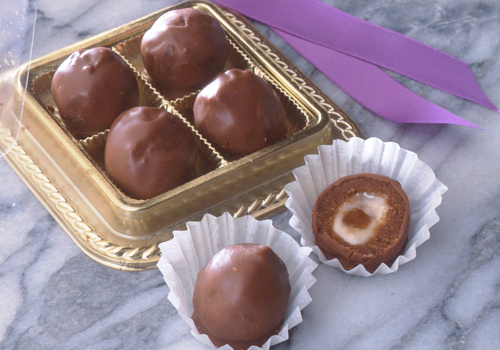 ▲Prarinen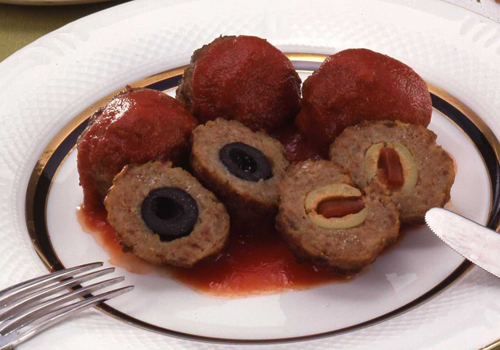 ▲Meat with olive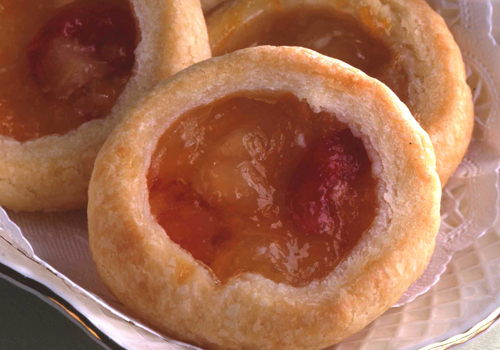 ▲Open top pie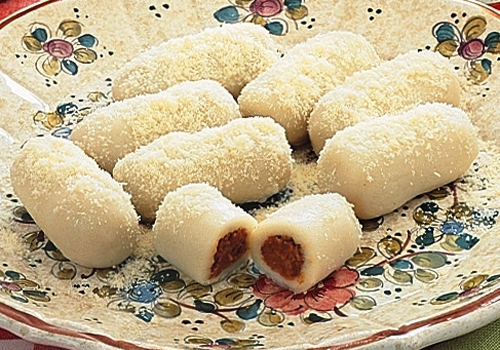 ▲Filled Gnocchi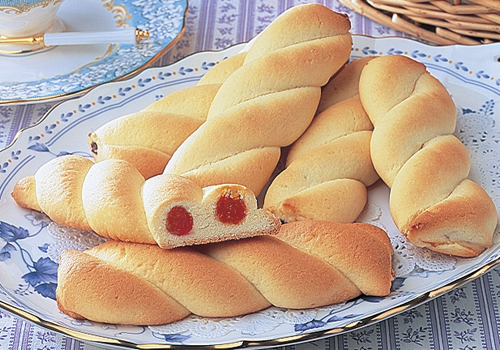 ▲Filled Twist Cookie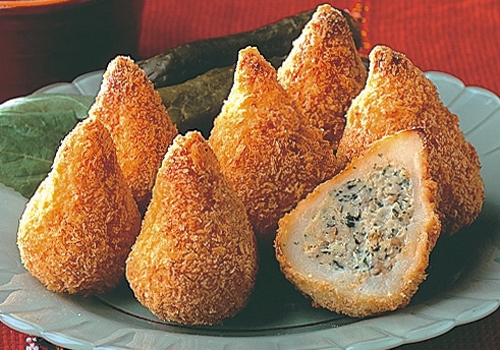 ▲Coxinha
Features

Control panel can be turned by 90°
Built-in Product Memory Unit (P.M.U.)
Machine body can be cleaned with running water
Flexible product weight, filling/dough ratio and length

The KN-135 can produce food products within a weight range between 10 to 250 g. Moreover the fully adjustable encrusting ratio allows for an individual rate of dough thickness and filling volume. The length of the end product is variable, as well.

Weight Range (10~250 g)
Ratio Range (1:0~0:1)
Length Range (0~500 mm)
Various forming capacities

Cornucopia KN-135 allows for a huge variety of product form: Small, medium and large spherical encrusting is just as possible as short, long and large bar shaped encrusting. Moreover, continuous cylindrical, mosaic or swirl extrusion can be chosen from.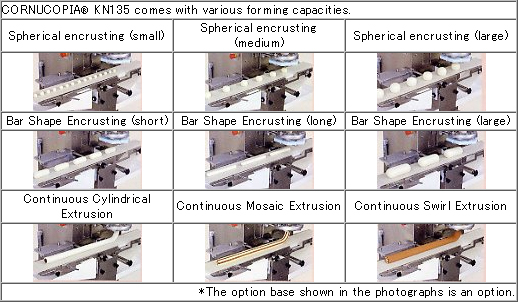 Additional options extends the range of products.

With optional add-on devices, the KN-135 can be individually adjusted to specific demands: Available are the Double Filling Feeder, the Solid Feeder, the Open Top Shutter the Twist Nozzle.
| Double Filling Feeder | Solid Feeder | Open Top Shutter | Twist Nozzle |
| --- | --- | --- | --- |
| Creates products with three layers of defferent materials. | Encrusts a solid material within one or two casing layers. | Encrusts while leaving the product tops open. | Creates twisted product with filling inside, also possible to use two different filling materials. |
| | | | |
Specifications

| | |
| --- | --- |
| Width | 1610mm |
| Depth | 890mm |
| Height | 1318mm |
| Weight | 270kg |
| Electrical Capacity | 1.29kW |
| Hopper Capacity | 15L |




Capacity

| | |
| --- | --- |
| Product Weight Range | 10 to 250g |
| Output | 20 to 100pc/min |
| Belt Speed | 2.0 to 35m/min |
| Product Length Range | 0 to 500min(Intermittent Encrusting) |
| Extruding Capacity(total) | 280kg/h |