CORNUCOPIA® KN550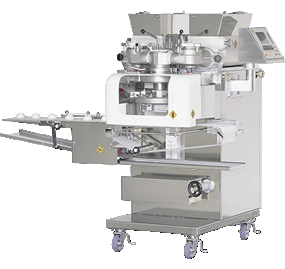 The CORNUCOPIA®KN550 is highly versatile Encrusting Machine. It can produce confectionery, prepared foods and fermented dough.
There are three different types of models for the KN550; the European Model, the Asian Model and the US Model. Pictured here is the US Model.
The maximum capacity for small products is 90 pieces per minute
The New KN550 has production speeds of up to 1.5 times faster than former model.
The machine features a smoother and more gentle extrusion of materials.
For example, products such as Arancini, individual grain of rice remain intact. In the case of Chocolate Chip Cookies, chocolate chips will not be crushed or misshaped.
Shape is more uniform for stick products.
Since you can direct the detailed setting of the shutter from the
control panel, you can make adjustment of the machine during production.
And More!
1.There is less left over filling.
2.Mounting and dismounting of parts is easier.
3.10% less and 30% lighter parts compared to the former model.
4.Easier washing of parts.
5.Color touch screen control panel for fine tuning of tuning and adjustment.
6.Even better product shape and weight accuracy.
Products shown below are only a few examples among many
Confectionery

Chocolate Chip Cookies
Production KN550 can produce Chocolate Chip Cookies up to 5,400 pcs./h with the weight remaining constant. It produces cookies without crushing the chocolate.


Prepared Foods

Arancini Production
KN550 can produce Arancini with cheese filling without damaging the texture of rice both continuously and uniformly. Product size, filling and dough ratio can be set easily.

Meat with Egg Production
As expected, KN550 is ideal for meat products. The main body is easily washable and stainless steel parts are available for sanitary purposes.

Scotch Egg Production
By using options such as the Solid Feeder, an whole egg can be encrusted into ground meat for products such as Scotch Eggs. Furthermore, solid material can be encrusted with two types of ingredients.

Meat Loaf Production
Intermittent encrusting function produces filled bar shaped products. You can get various lengths for products by the wide intermittent range of 0-99 seconds.


Fermented Dough Production

Filled Buns Production
KN550 is also great for elastic bread dough. High quality products can be produced using the new agitator that generates less heat.

Filled Focaccia Production
Maximum product weight of KN550 is 300g. A large Filled Focaccia can be produced thanks to it's high performance.

Open Top Pizza Production
By using the Open Top Shutter, the surface of the product remains visible. You can produce Open Top Pizzas while maintaining the natural texture of the ingredients.

Bread Stick Production
Production of yeast raised bar shaped products, finger foods such as bread sticks, and even pretzels can be easily made.

Steamed Chinese Meat Bun Production
Production of Chinese Dim Sum such as Steamed Meat Buns, Small Steamed Buns and Crystal Dumpling can be produced without any difficulty by using the Twist Top Shutter Option.

Capacity and Specifications

Capacity

| | |
| --- | --- |
| Product Weight Range | 10 to 300g |
| Output | 10 to 90pcs./min. |
| Belt Speed | 1.3 to 22m/min |
| Product Length Range | 0 to 500mm(intermittent Encrusting) |
| Extruding Capacity(total) | 400kg/h |
*The above specifications are for machines equipped with safety cover. The measurements may differ according to the machine with or without safety cover.
*Production speed and weight range varies depending on the material. Please make sure by running your own materials.
*Product size will be limited at faster than 61pcs./min because the maximum shutter opening reduces to 70mm in diameter.
Stiff dough isn't recommended in this condition.
*Use of the Solid Feeder allows 30pcs./min at maximum.

Specifications

Width

1757mm

Depth

U.S.A./Asia 979mm

EUROPE 955mm

Height

U.S.A./EUROPE 1486mm

Asia 1383mm

Weight

520kg

Electrical Capacity

3.2kW

Hopper Capacity

U.S.A./EUROPE 20Lx2

Asia 15Lx2
*All electric parts are UL approved.
*Designed for USDA facilities.
*Designed to meet CE regulations.