Mega Former – Up to 24,000/HR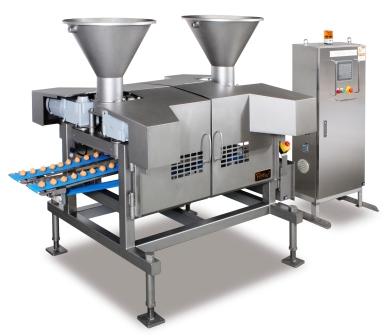 A High-Speed Encrusting Machine can produce up to 24,000/HR.
This equipment has been developed especially for all types of meat and fish products. Different types of Dumplings and Knodels can also be produced.
Stainless Steel is used where food products come into contact so it is very hygienic and easy to clean using high-pressured water.
Since there are only a few parts for this compact machine, disassembly is very easy and can be washed using high-pressure water because the motor is waterproof.
Other options such as Hoppers, Dough Lifters, Conveyors and Panners can also be attached to this equipment.
Products Produced

Meatballs
Filled Chicken Nuggets
Croquette with Meat
Minced Meat With Cheese Filling
Chicken kiev balls
Chicken parmagiana balls
Meatballs with cheese
Veal cordon blue balls with cheese
Hamburgers filled with cheese
Potato cakes(scallops) filled with cheese
Chicken nuggets filled with cheese.
Features

High Speed Encrusting and Dividing.
Maximum production is 24,000 per hour (for two rows) (same maximum production for both encrusting and dividing.)
Maximum output is 3,000kg/hour.
Weight range of the product is approximately 10-250g per piece.(This may vary slightly depending on the dough and filling.)
The temperature for the dough and filling can range from partially frozen to 70℃.