Multi Co-Extruder Multirow Encrusting Machine(6 to 14row)

It is an Encrusting machine, which can be used for mass production mainly of confectionery products. such as soft filling cookies, mosaic cookies, etc. Double filling product is also available using option.
Features

This machine is ideal for cookie production. There are 3 types of standard model to fit with oven band width (800, 1000 and 1,200mm wide). Combination of dough/filling and optional devices create your own products. The maximum capacity of the standard model (14 rows) is 100,800 pieces per hour.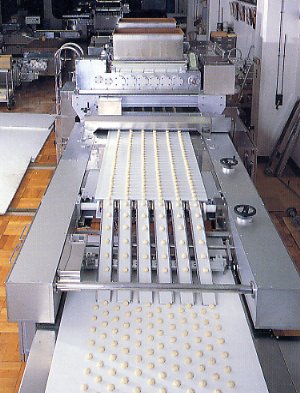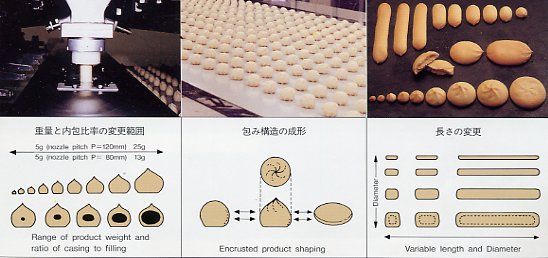 Capacity

Belt width 800mm type

| | |
| --- | --- |
| 6-row model | 43200pcs./h |
| 9-row model | 64800pcs./h |


Belt width 1000mm type

| | |
| --- | --- |
| 8-row model | 57600pcs./h |
| 12-row model | 86400pcs./h |


Belt width 1200mm type

| | |
| --- | --- |
| 10-row model | 72000pcs./h |
| 14-row model | 100800pcs./h |