Rounder RR800 – Rounding dough balls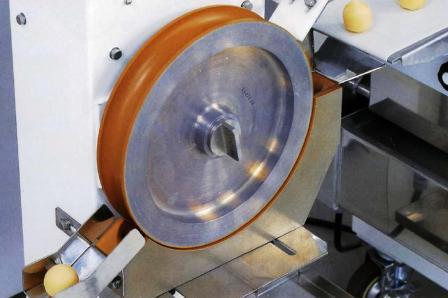 Automates the hand forming process of rounding dough balls, for efficient and hygienic production.
This machine is attached to the Rheon encrusting machine. Divided or encrusted products are formed through a rotating drum, to create products that are even closer to perfect spheres.
Product size variations can be conducted easily by changing the drum and guide.
The Rounder is easy to clean after production.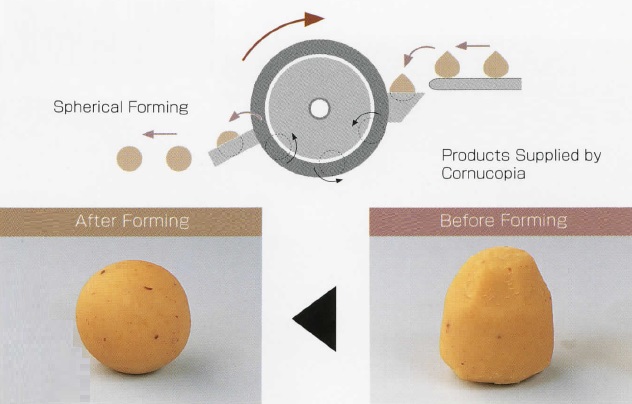 Features

The machine is simple, compact, and utilizes only minimal space for efficient production.
The caster and one-touch stoppers make moving and setting the machine easy.
The forming size is available in diameters of 28, 32, and 36 mm. (Drum diameters from 20 to 40 mm can be made to order.)
Production occurs at a maximum rate of 3600 products per hour.
Production Line with Rounder

Connect the Rounder to the Cornucopia for immediate use.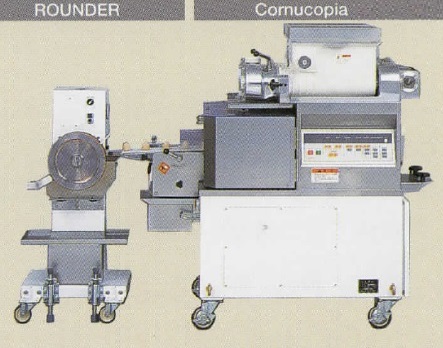 Specifications

| | |
| --- | --- |
| Output | 3600pcs/hr |
| Product Size | Dia. 20 – 40mm |
The drum and guide must be changed according to product size.
The Rounder is not suited for forming certain materials. Please consult the Rheon office nearest you.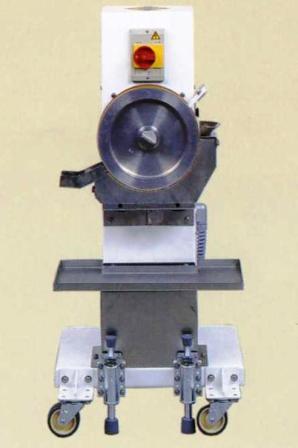 ▲Nerikiri ▲Dango ▲Sweet Potato ▲Bean Paste