SANUKI AP-6 Model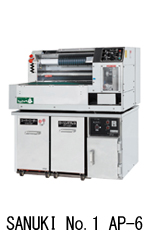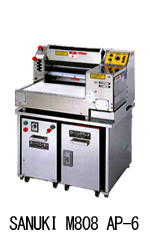 Sanuki handmade-style Udon, Soba, Pasta, Ramen
This machine can reproduce skills of Udon craftsmen faithfully because all processes are set in this machine for Sanuki handmade-style Udon.
The machine includes hand kneading (Super kneader; SN-6P), forming (Rolling press; RP-1P) and knife slicing. There are lots of successful Udon restaurants all over the world by using the machine. In Japan, we have lots of patents for this machine. Even among them, specialty Udon restaurants should have a patent of hand-made style noodle's method to have differences. It means that your noodle's quality should be better than competing restaurants. Moreover, the machine is really easy to use, so even amateur people can control it easily.
Noodle-making capacity;

300 servings per hour
Suitable noodles for this machine;

High rate adding water noodles (Udon)
We also have small version of SANUKI No.1, which name is SANUKI M808 AP-6 Model. There is a difference between No.1 and M808 is that amount of noodle-making capacity.
Noodle-making capacity of SANUKI M808;

200 servings per hour