Compact Gyoza

Compact Toa gyoza-making machines fit nicely into store kitchens, blending into the ambient surroundings. They offer just the right level of performance for those starting out in store management and those who are struggling with the limits imposed by handmade gyoza.
■Specifications

| | |
| --- | --- |
| Height | 408 mm (with hopper: 701 mm) |
| Floor area | Depth: 255 mm Width: 343 mm |
| Weight | 44 kg |
| Power | Single-phase 100 V 65 W |
| Space | 0.09 square meter |
| Material | Stainless steel, hydro-alloy |
| Mfg. capacity | 1,500 pcs/hour |
※Specifications are subject to change without notice in order to improve performance.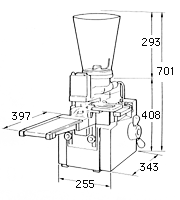 Compact filler

This filler proves extremely helpful in making gyoza by hand, providing stable, even filling of ingredients such as meat, fish and bean jam.
A compact size on a par with small-sized microwave ovens
・Can accommodate various kinds of filling, such as fish and bean jam, in addition to gyoza, shaomai, hamburgers, meatballs and other items.
・Customized design in which the agitation screw is selected to match the ingredients.
・The unit can be replaced to accommodate changes in the shape, size and quantities of the ingredients.