T-16 – Standard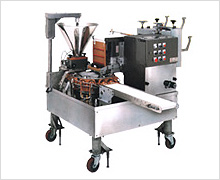 From wrap making to filling and forming, this model is capable of producing 10,000 gyoza per hour.
All operations are automated, from making the wraps from sheets of dough to filling them and forming the gyoza. The size and shape of the gyoza, amount of ingredients, and wrap thickness are all designed to the customer's specifications.

T-16 Specs table

Capacity

10,000 pcs/hour

No. of forming pallets

16

Unloading conveyor

2-row ejecting conveyor

Dough roller width

230 mm

Water-added dough feed

Air shower

Air supply method

Equipment installed at site used (not installed on main machine)

Main machine dimensions

1280 mm x 1700 mm x 1610 mm (without options)

Electrical power

Main unit drive: 3-phase 200 V 0.40 kW






Screw drive: 3-phase 200 V 0.09 kW






Dough drive: 3-phase 200 V 0.75 kW

Total weight

1000 kg
※Specifications are subject to change without notice in order to improve performance.