T-24 – High Speed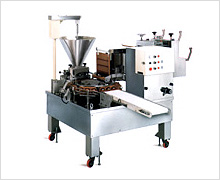 A more advanced version of the standard-model T-16, this high-speed model can produce 15,000 gyoza per hour.
Customers looking for a fully-automated gyoza-making machine with high efficiency, capable of turning out 15,000 gyoza per hour, will love this high-spec model. An auto lineup device for pallets, trays and net conveyors is available as an option.

T-24 Specs table

Capacity

15,000 pcs/hour

No. of forming pallets

24

Unloading conveyor

3-row ejecting conveyor

Dough roller width

280 mm

Water-added dough feed

Air shower

Air supply method

Equipment installed at site used (not installed on main machine)

Main machine dimensions

1250 mm x 2095 mm x 1760 mm

Electrical power

Main unit drive: 3-phase 200 V 0.750 kW






Screw drive: 3-phase 200 V 0.09 kW




Dough maker drive: 3-phase 200 V 3,000 kW
(1-stage: 1,500 kW、2-stage: 1,500 kW)

Total weight

1250 kg
※Specifications are subject to change without notice in order to improve performance.