T16 – Bud Shaped Encrusting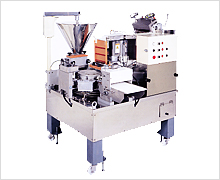 For customer's seeking distinction in the shape and size of their products, a feature of this model is the delicate pleats that make the gyoza look handmade.
The T-16 bud-shaped encrusting machine stands out for the natural pleats that give the product a handmade look. Ideal for customer's seeking distinction through totally new gyoza shapes and sizes.

T-16 Specs table

Capacity

10,000 pcs/hour

No. of forming pallets

16

Unloading conveyor

2-row ejecting conveyor

Dough roller width

230 mm

Water-added dough feed

Air shower

Air supply method

Equipment installed at site used (not installed on main machine)

Main machine dimensions

1280 mm x 1700 mm x 1610 mm (without options)

Electrical power

Main unit drive: 3-phase 200 V 0.40 kW






Screw drive: 3-phase 200 V 0.09 kW






Dough drive: 3-phase 200 V 0.75 kW

Total weight

1000 kg
※Specifications are subject to change without notice in order to improve performance.