Suzumo SGP-SNB – Nigiri Former & Wrapper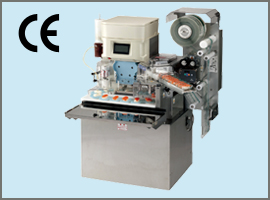 The SGP-SNB is a nigiri former and wrapper. Simply place cooked sushi rice in the topper, and the SGP-SNB will form nigiri pieces onto the turntable. There the machine will put a dab of wasabi on each rice ball (optional), and you can place your toppings on each piece of nigiri.
The nigiri is then quickly and precisely wrapped, with the finished wrapped nigiri pieces fed onto the discharge rail.
The sushi wrapping film keeps the nigiri fresh, and also makes individual pieces of nigiri more attractive to your customers.
It is perfect for caterers, or for those who serve individual pieces to customers – and who are particularly concerned about maintaining hygienic handling of the sushi pieces.
The machine can also wrap hosomaki (thin rolls).
The SGP-SNB has a capacity of up to 2,000 pcs / hr, with the speed selectable to accomodate the speed at which the operator places toppings on the nigiri rice balls.
And all features can be controlled via the easy to use LCD touchscreen panel.
**FOR A LIMITED TIME ONLY**

Purchase 3 or more Suzumo machines and our professional sushi chef and consultant will spend one day setting up your equipment and training you how to make sushi with these machines.
Contact us more to find out more about this special offer.
Click here to learn more about our sushi restaurant training and setup consultation services.
| Specifications | Detail |
| --- | --- |
| Model | SGP-SNB-FT |
| Capacity | 1000, 1200, 1400, 1600, 1800, 2000 pcs/hr (selectable) |
| Rice Ball Size | 18, 20, 22, 25g (selectable) |
| Wrapping Dimensions | 68L x 35W x 30H (mm) |
| Wrapping Film Specification | 135mm width, 30 micron thick |
| Hopper Capacity | 6 kg of cooked rice (Approx) |
| Options | Printing Unit, Wasabi Unit, Printer, Sub Hopper |
| Power Input | AC 240V 1Ph 50Hz (No Transformer required in Australia) |
| Power Consumption | 330W (without Optional Items) |
| Machine Dimensions | 830W x 755D x 1280 ~ 1350H (without printer); 840W x 755D x 1380 ~ 1450H (with printer) (mm) |
| Machine Weight | 144 kg (without optional items) |
| Standard | Australian OH&S Standard, CE Certified |
| Assembled & Manufactured In | Japan |
***
Planning Or Starting A Sushi Business? Get Your Free Guide Here. . .