Suzumo SSF-CXA – Turntable Nigiri Former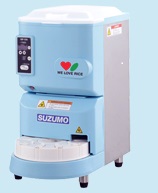 Produces up to 2,000 nigiri rice balls / hr
Adjustable weight and density
The SSF-CXA is a new mid-range model able to produce up to 2,000 nigiri rice balls per hour. Nigiri balls are dispense automatically onto the rotating table. The machine will automatically stop dispensing nigiri once the table is full.
The SSF-CXA features an easy to use control panel which allows the nigiri rice ball weight and density to be adjusted precisely.
Simply place cooked rice in the hopper and start making rice balls!
Find out more about Suzumo nigiri machines: SSG-SCS, SSF-CXA & SSN-FLX.
**FOR A LIMITED TIME ONLY**

Purchase 3 or more Suzumo machines and our professional sushi chef and consultant will spend one day setting up your equipment and training you how to make sushi with these machines.
Contact us more to find out more about this special offer.
Click here to learn more about our sushi restaurant training and setup consultation services.
| Specifications | Detail |
| --- | --- |
| Model | SSF-CXA |
| Machine Capacity | 2,000 pcs/hr |
| Weight per Piece | Table Unit CXA-S10: 12 – 18g (52mm x 22mm), Table Unit CXA-A10: 18 – 20g (55mm x 24mm) |
| Hopper Capacity | Approx 6kg of cooked rice (10L) |
| Power Input | AC 240V 1Ph 50Hz (No Transformer required in Australia) |
| Power Consumption | Max. 150W |
| Machine Dimensions | 320W x 520D x 630H (mm) |
| Machine Weight | 35 kg |
| Standard | Australian OH&S Standard, CE or ETL Certified |
| Assembled & Manufactured In | Japan |
***
Planning Or Starting A Sushi Business? Get Your Free Guide Here. . .