Suzumo SSN-FLX – Turntable Nigiri Former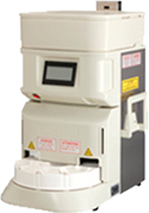 The SSN-FLX Nigiri machine shapes and produces up to 3600 nigiri rice balls per hour. It quickly and effectively creates nigiri without crushing the rice grains, to give a soft and tender texture. The exceptional quality of the machine aims to replicate the soft, handmade texture of nigiri made by a professional sushi chef. It creates low density and high quality, fluffy rice-balls with the ability to control the weight, size and density of the nigiri rice ball without kneading, damaging or cutting the rice. The weight, size, softness and density of the rice ball is controlled via the easy to use control panel.
The sleek and compact design with reversible turntable makes it useable in a variety of different kitchen layouts and the top-loading hopper makes it extremely easy to load with rice. The turntable automatically stops once the table is full with nigiri rice balls, and resumes operation automatically when the nigiri rice balls are taken off the table. This saves you time, and ensures a hands-free operation, leaving you free to take care of other parts of the shop. With limited parts and a simple structure, cleaning, assembling and disassembling is effortless and maintenance, simple.
The LCD touch screen supports 7 languages and can be displayed in English, German, French, Spanish, Korean, Chinese and Japanese. The writing is large and easy to use.
With a capacity of making up to 3600 pieces of nigiri per hour, the machine can hold approximately 6 kgs of cooked rice using only 30W of power. It's perfect for a busy sushi restaurant or for mass production.
For various kitchen layout needs, reverse (clockwise direction) turntable model SSN-FRX is also available.
Find out more about Suzumo nigiri machines: SSG-SCS, SSF-CXA & SSN-FLX.
**FOR A LIMITED TIME ONLY**

Purchase 3 or more Suzumo machines and our professional sushi chef and consultant will spend one day setting up your equipment and training you how to make sushi with these machines.
Contact us more to find out more about this special offer.
Click here to learn more about our sushi restaurant training and setup consultation services.
| Specifications | Detail |
| --- | --- |
| Model | SSN-FLX or SSN-FRX (Left Hand / Right Hand Model) |
| Machine Capacity | 3,600 pcs/hr or 3,000 pcs/hr or 2,500 pcs/hr or 2,000 pc/hr. Adjustable on control |
| Weight per Piece | Minimum 15g to maximum of 25g |
| Hopper Capacity | 6 kg of cooked rice (Approx) |
| Power Input | AC 240V 1Ph 50Hz (No Transformer required in Australia) |
| Power Consumption | 30W |
| Machine Dimensions | 350W x 518D x 619H (mm) |
| Machine Weight | 25 kg |
| Standard | Australian OH&S Standard, CE Certified |
| Assembled & Manufactured In | Japan |
***
Planning Or Starting A Sushi Business? Get Your Free Guide Here. . .