Suzumo THS-DRA – Manual Onigiri / Omusubi Press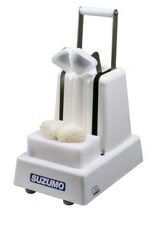 The THS-DRA is a manual press that is able to make different rice shapes – nigiri, omusubi or round shapes – with different attachments.
All you do is place the right amount of rice into the mould (you can measure the correct amount of rice using a rice weighing machine), and then simply press to give you a perfectly shaped rice ball or triangle.
The machine is very durable, made from quality Japanese components – and is made to withstand the rigors of use within a commercial shop.
It is ideal for those who are making onigiri in smaller quantities, and for those who are looking for a cheaper, more compact alternative to the higher-capacity, automatic SSG-GTO.
The speed at which you can make omusubi or other shapes will be dependent on the operator.
Available in Nigiri (Rice Ball), Omusubi (Triangle Rice) and Round (Rice Burger) Shapes.
Specifications
Detail
Machine Dimensions
228W × 333D × 289Hmm
* maximum depth 377mm, 460mm maximum height
Assembled & Manufactured In
Japan
***
Planning Or Starting A Sushi Business? Get Your Free Guide Here. . .