Suzumo – RM-401A – 9L Rice Washer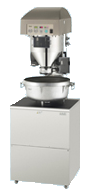 Rice Mini RM-401A is a fully automated, computer controlled rice washing machine for industrial use.
The RM401A has a function to automatically adjust the water level, and will automatically transfer rice to the washing tank, and automatically discharge after washing.
The machine is compact to allow fitting into tight spaces in any shop. The RM-401A features a Pot Sensor, Water Level Setting, Water Pressure Sensor & Alarm, and safety covers for complete function and safety.
Error display codes make for simple and easy trouble-shooting over the phone.
RM-401A Operation Instructions:
This is a fully automatic rice washing machine.
Place the cooking pot on the machine.
Press selected program start switch.
Rice is discharged from storage tank and sent to washing tank.
The washed rice is automatically discharged to the cooking pot with exact amount of water.
Remove the cooking pot and place the pot in the cooker.
| Specifications | Detail |
| --- | --- |
| Model | RM-401A |
| Rice Washing Capacity | 1.8 – 9L (0.9L Increments) |
| Washing Time | 5 min 40s (5.4L of rice) |
| Amount of Water Used | Approx. 29L (5.4L if rice) |
| Water Pressure | 0.1Mpa – 0.5Mpa (1kgf/cm3 – 5kgf/cm2) |
| Rice-storing Capacity | 90 kg |
| Power Input | AC 240V 1Ph 50Hz (Australian Standard Safety Transformer Included) |
| Power Consumption | 590W |
| Machine Dimensions | 600W x 630D x 1785H (mm) |
| Machine Weight | 77 kg |
| Standard | Japanese Industrial Standard with Australian Safety Transformer |
| Assembled & Manufactured In | Japan |
***
Planning Or Starting A Sushi Business? Get Your Free Guide Here. . .