KY Series – Cucumber Cutter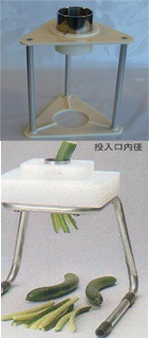 Cutting cucumbers into thin slices to put into sushi rolls, can be time-consuming and cumbersome. Cut a whole cucumber into slices all at once using this cucumber strip cutter. Simply press the cucumber through the top whole, through the cutter, and cucumber strips will exit the bottom. The cucumber cutter slices whole cucumber in 6, 8, 10, 12, 16 or 20 long strips (depending on model) and removes the centre seeds at the same time.
The cucumber strip cutter comes in a regular 50mm diameter, and larger 70mm diameter model. This unit weighs 3kg and measures 300mm W x 300mm L x 340mm H. This is quality made in Japan.
Specifications
Detail
Model
KY
Cucumber Dia (max 50mm)
KY-6
KY-8
KY-10
KY-12
KY-16
KY-20
Cucumber Dia (max 70mm)
KY-6L
KY-8L
KY-10L
KY-12L
KY-16L
KY-20L
Strip Length (max) (mm)
Unlimited
Strip Pieces
6
8
10
12
16
20
Machine Dimensions (mm)
300 W x 300 L x 340 H
Machine Weight
3 kg
Standard
Japanese Standard
Assembled & Manufactured In
Japan
***
Planning Or Starting A Sushi Business? Get Your Free Guide Here. . .