Suzumo Rice Cooking Net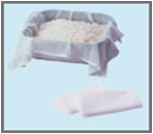 The rice cooking net helps prevent burnt rice grains from sticking onto the bottom of the rice pot (less cleaning). It also makes taking steaming hot rice out of the rice pot a breeze. Simply grab the net, and take the rice out. You'll never have to burn your hands grabbing the hot pot, or wait for ages before taking the rice out of the rice cooker!
The net measures 750mm x 750 mm.
***
Planning Or Starting A Sushi Business? Get Your Free Guide Here. . .