Suzumo Softon Rice Oil Lubricant Spray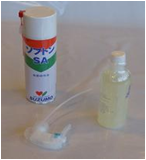 Oil spray must be applied to all machine surfaces that come into contact with rice. This prevents the sticky sushi rice from sticking onto machine surfaces. This non-stick oil spray comes in either a 300mL plastic bottle, or in a 330mL spray can. Both come with extension nozzles to help you spray hard to reach surfaces. This oil spray is quality made in Japan.
***
Planning Or Starting A Sushi Business? Get Your Free Guide Here. . .