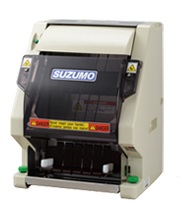 If you are a caterer or takeaway store selling lots of pieces of sushi, you know that cutting sushi rolls is a problem.
Cutting sushi rolls by hand is slow, can lead to crushed sushi rolls (from holding the sushi roll when cutting), unevenly sized pieces or even cut fingers.
You'll never have to worry about those problems again with a sushi roll cutter. Please click on the navigation bar on the left to check out our sushi roll cutter.
***
Planning Or Starting A Sushi Business? Get Your Free Guide Here. . .