Suzumo SVC-ATC – Sushi Roll Cutter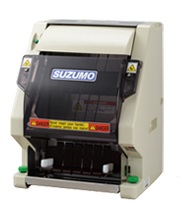 Cuts up to 2,200 rolls / hour
Two button operation for complete user safety
2,4,6,8,10 or 12 piece slicing sets available
Suitable for cutting harder ingredients like soft shell crab
SVC-ATC is an automatic Sushi Roll Cutter designed for safe operation and easy cleaning.
Simply place the sushi roll on the cutter table at the bottom. Press and hold the two green buttons, and the table will lift the sushi roll up into the blade assembly. The cut sushi will pop up at the top. Press the green buttons again to return the table to the bottom.
The user is never exposed to the cutting blades for maximum user safety.
The blade frame and roll table is easily removed for cleaning (2-3min for assembly and disassembly process).
The SVC-ATC is able to cut harder food ingredients like soft shell crab and teriyaki chicken.
The cutting blade unit and table can be designed on a custom order basis. The standard cutting unit is either 180mm – 6 pieces or 180mm – 8 pieces. A wider cutting table can be set, which is able to cut 3 pieces of small rolls at a time.
**FOR A LIMITED TIME ONLY**

Purchase 3 or more Suzumo machines and our professional sushi chef and consultant will spend one day setting up your equipment and training you how to make sushi with these machines.
Contact us more to find out more about this special offer.
Click here to learn more about our sushi restaurant training and setup consultation services.
Specifications
Detail
Model
SVC-ATC
Roll Size
Small
Medium
Large
Operation Speed (max)
2,200
1,100
550
Power Input
AC 240V 1Ph 50Hz (No Transformer required in Australia)
Power Consumption

140W

Machine Dimensions

380W x 320D x 476H (mm)

Machine Weight

17 kg

Standard
Australian OH&S Standard, CE Certified
Assembled & Manufactured In
Japan
***
Planning Or Starting A Sushi Business? Get Your Free Guide Here. . .